Band-in-a-Box® med RealBand 2021 PlusPAK
Uppgraderingar från
Band-in-a-Box® 2020

** Kräver Band-in-a-Box® 2020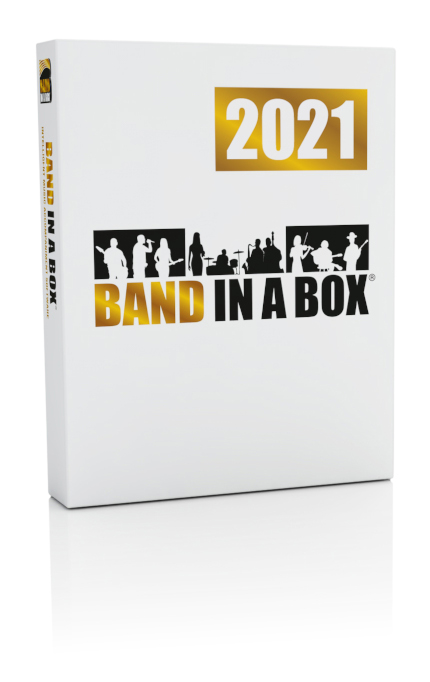 2021 PlusPAK inkluderar:
Band-in-a-Box® 2021
RealBand 2021
Alla 202 new RealTracks instruments
(Sets 353-375).
The perfect upgrade if you currently have the Band-in-a-Box® 2020 UltraPAK / UltraPAK+.
Kräver Band-in-a-Box® 2020
~11 GB nedladdning eller för ytterligare $15 så får du din beställning på en USB Flash Drive. Som ytterligare bonus inkluderar vi en gratis Band-in-a-Box® keychain med din Flash Drive beställning!

new
202 RealTracks i 2021 PlusPAK!
Vad är RealTracks? RealTracks ersätter MIDI-spåret för det instrumentet, och kan kontrolleras precis som MIDI- instrumentet (volymändringar, tystande etc.). Bäst av allt, de följer de ackordföljder du har matat in, så att du hör ett verkligt audioackompanjemang till din sång.Dessa är inte "prov," utan fullständiga inspelningar, som sträcker sig mellan 1 till 8 takter åt gången, och spelar i perfekt synk med de andra Band-in-a-Box® och RealBand-spåren.
RealTracks List >>
Du kan också köpa RealTracks Sets individuellt eller i RealPAKs >>
30 Dagar Pengar Tillbaka Garanti
Ovillkorlig 30-Dagar pengarna tillbaka garanti på alla produkter som köpts från PG Music Inc.
Kontakt Info
PG Music Inc.
29 Cadillac Ave Victoria BC Canada V8Z 1T3
Sales: 1-800-268-6272, 250-475-2874,
+ 800-4746-8742 *
Support: Live Chat, support@pgmusic.com
* Internationella Frisamtalstjänsten Service Visa koder
Distributörs
Sweden MIDI Music
Missionsvägen 75
167 33 BROMMA
Tel: 08-80 68 88
Organisationsnummer: 556292-8209
email:
Web: www.swedenmidimusic.se/